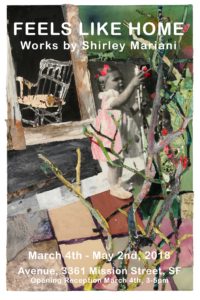 Art Opening Bernal Heights/Mission 
'Feels like Home' 
Opening Reception: March 4, 2018
3:00 - 5:00pm at Avenue (located at 3361 Mission Street, San Francisco).  
Featuring 13 works of art by Shirley Mariani (b. 1941), 'Feels like Home' showcases a series of paintings that reflect Mariani's early life in Atlanta, Georgia and the family farm in Hillsboro, Illinois.  Through her abstract, mixed medium works, Mariani visually narrates the stories of her life on the farm with her family.  
'Feels like Home' will be on display March 1–May 1, 2018.  
Please join us for Shirley Mariani's first solo exhibition.  'Feels like Home' is presented by Curated State at Avenue.